A couple years ago, Stan and I went back to San Diego, the place where we got together. I hadn't been there in many years, and I was stunned and dismayed by how much it had changed. I remembered a sleepy military town that prided itself on the San Diego Zoo, golden light at dusk, white stucco houses, and bright orange birds of paradise that bloomed along the freeway. That San Diego, circa 1985, had almost disappeared beneath layers of new development.
I barely recognized the airport, which now resembled a high-end shopping mall. The downtown, once a place of seedy tattoo parlors and single-room occupancy hotels, was a forest of glass office towers. The modest bungalows of Pacific Beach, where Stan and I used to live, had been torn down to make way for boxy condos.
Still, we managed to have a good time. We reconnected with old friends, checked out some trendy new bars and restaurants, and then, for old time's sake, made a pilgrimage to the Chicken Pie Shop, the site of our first date. This old-fashioned coffee shop is a San Diego institution, founded in the Depression, famous for its double-crusted chicken pies in gravy. If you order the dinner, they come with mashed potatoes, coleslaw, and big, puffy dinner rolls, everything a shade of pale beige or white.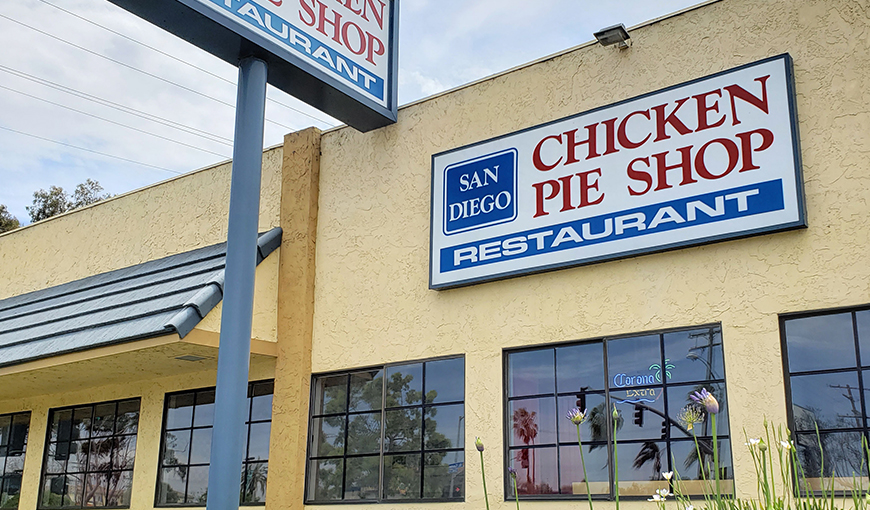 Since we'd moved away, the Chicken Pie Shop had changed too, relocating from the older, tree-lined neighborhood of Hillcrest to a drab stretch of El Cajon Boulevard lined with auto body shops and fast-food joints. The new space was bigger, and the menu included a few more salads than I remembered.
Naturally, we both ordered the chicken pies, and when the waitress brought our meal, it brought back a flood of memories of the five years I lived in San Diego in the 1980s, when I was a newbie reporter at the hometown paper, trying to figure out what to do with the rest of my life.
So, when the literary forum Read650 put out a call for true five-minute personal stories about cooking and food, I knew I had to write about the Chicken Pie Shop. You can listen to my essay, "The White Meal," by downloading Read650's "What's Cooking?" episode from wherever you get your podcasts.
While you're at it, you might want to pop a chicken pie in the microwave or the oven. But I seriously doubt whether it will be as creamy, salty, and delicious as the ones at the Chicken Pie Shop.
Above, the main attraction at the Chicken Pie Shop in San Diego.